Hello everyone!
After a long and painful waiting, my KZ ZS7 IEMs have just reached my hands and my ears, so after some days of use i've decided to write my thoughts and impressions about'em.
The review will be a deep look into them but i will try to make a comparison with the ZS6 everytime i can, as i know that many people that read ZS7 reviews, do that because they want to upgrade from their ZS6, so that can be a good way to have one more opinion about them compared.
The KZ ZS7 were sent me with a good discount by AK AUDIO STORE, an Aliexpress store which i used to buy from and which is well known for their awesome customer service. 
I leave you the link of the ZS7 on their store, where you can even buy them for a discounted price writing "nxnje review reader" in the buying notes before paying, so the seller can fix the price: prices (with discounts) are 37$ for the non-mic version and 38$ for the mic version (Instead of 44$/45$).
https://www.aliexpress.com/item/AK-…94-410e-8cb0-7cb0eb468a43&transAbTest=ae803_4
I just wanna precise that my impressions are subjective and that listening experience can change depending on ear canal, tips, source and so on.
Tests have been done with:
– smartphone: Samsung Galaxy S7 Edge with Neutron Music Player che con Neutralizer
– AGPTEK m20 (Benjie S5) DAP
– Presonus Audiobox iONE: external USB interface with no enhancements on
Technical specs for this new KZ model are:
Drivers: 1DD+4BA (1DD for the low-end, 2BA for the mid-range, 2BA for the upper-range).
Sensitivity: 105dB
Impedance: 24ohm
Frequency Response: 7 Hz – 40000 Hz
Cable lenght: 1.2m
Plug Type: L Bending
PIN type: 0.75mm, A type
PACKAGING
It made me happy this time.
I used to see people opening this "book-like" package in the past, probably old special versions for China customers.
Now they've come in that package, in which we find: IEMs, cable, some informative papers with the warranty, a metal plate with the KZ logo and the usual Starline tips from KZ.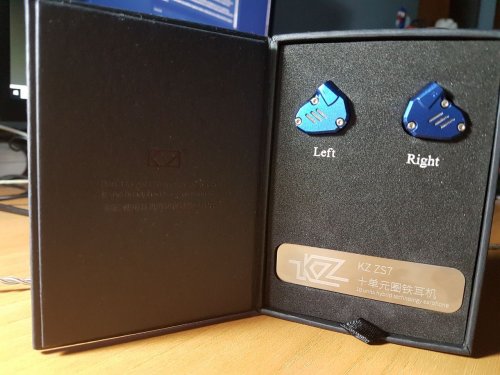 CABLE
Cable has changed if we compare it with the one that used to be sold with the ZS6.
It's the one that KZ has been selling as upgrade cable, the same featured in the ES4, ZSA and so on.
It is a copper cable with a good rubber touch, not sticky like the old one and actually not microphonic.
There isn't any slider and the Y split is way too low; a handmade velcro chin slider can be easily bypass this little "lack".
I still prefer the TRN v80 cable but that said, this is an improved cable if we compare it to the old one.
Cable ends with a gold plated L-angled 3.5mm jack.
Ear hooks are helped by the memory foam sheath, which guarantees a good grip around the ear: hooks are flexible and can be adapted, and are not pre-made like the ones in the TRN v80's cable.
My cable features an average quality microphone with a single button that can be used for answer to calls or play/pause music, but you can even choose the non-mic version.
I'm sorry for photo but i couldn't find a way to "round" the cable, really hard to make it tidier.
CONSTRUCTION AND INTERNALS
Not far from the ZS6: a good metal case which doesn't get heavy.
People online reported some bad assembled samples, but mine was great.
Nozzle finally got a lip on it that improves tip grip and features the usual grill which prevents earwax and dust to end into the shell.
Backplate vents are more inclined and seem to have gained a little space: the sub-bass and bass response can gain from this.
Connection PINs always show L and R letters for a correct connection of the cable.
COMFORT
I don't have the ZS6 anymore but i can approximately say that these are pretty the same: who's comfy with the ZS6 should find the same comfort on the ZS7 as fitting is really similar.
Winter can be really painful at first fit as the shell gets very cold at morning: it feels like touching your ear with an ice cube.
Nozzle doesn't seem to be different (or if it is, the difference is really microscopic), at least from what i remember.
SOUND
Let's get into it.
Now the critical factor that decides if something has to be tried or not: how do they sound?
I mainly listen to EDM subgenres, Dupstep, Future Bass, Euphoric Hardstyle, Bass House, Midtempo and downtempo, darkwave, drum'n bass, but i even listen to many vocal tracks, moreover female ones.
I always search for IEMs that have a little bit of emphasis in the lower region, and can sacrifice mids with some recession if they still sound clear and natural. I love vivid and sparkling highs if they're not at a headache level. Soundstage has to be at least average with a bit of air.
V-shape signature is my favourite one.
Low-end: WOW. ZS6 were already satisfying but these.. The ZS7 are really a step up in the lower region in terms of coherence and performance.
Sub-bass is more refined and shows great extension. It sounds when called in and it does it amazingly, rumbling without getting overwhelming.
Listening to 40hz-50hz sub-bass mixed samples the ZS7 sounds really engaging and precise at the same time: KZ nailed it in the low-end, improving the already great ZS6.
There's less bleed into the mids: kickdrums are less intrusive and avid in terms of space, they are full bodied, fast and not boomy, impactful and well textured.
Mid-range: V-shape can be heard here. Mids are recessed, but they still sound natural and clear. Voices sound a bit in the background but don't lose clarity and feel anyway musical. Male voices are really good, taking a good warm feeling in the space.
Upper-end: KZ finally heard our praises. After many bad words about the treble tuning of the ZS6, KZ decided to make their customers happier.
The upper part of the spectrum is now well suited for everyone: i didn't find a head scissor like the ZS6, no painful peaks, much detail, near 0 sibilance (apart from certain tracks which are aggressively mastered on the high frequencies).
KZ opted for a lower roll-off for the upper region that can maybe be felt going up with frequencies. I don't miss detail at the moment but i feel ZS6 could achieve some more details, obviously sacrifying a smoother and less fatiguing experience.
Soundstage: Soundstage is above average but less expansive compared to the ZS6 which gains more air from the upper range higher roll-off. ZS7 has more depth anyway.
Nice separation and pinpointing, that can be even appreciated in gaming sessions.
As i do not have an amp at the moment, i can't test if the ZS7 improves their SQ while amped. Reading the specs and some opinions online, it seems that amping improve the soundstage and the air of the sound that the ZS7 produce.
Their well-done tuning makes them less tip-sensitive compared to the ZS6. Low-end still depends on tip comfort like in any other case (i use the stock tips and the v80 tips some times, and i find myself good with both types).
SUMMARY
I was searching for a good alternative to my old ZS6 that i returned back to amazon due to some technical problems, without buying something i shoul tip-roll for ages in order to get a good balance that fits my tastes.
Personally, i didn't dislike the ZS6 highs, but in many situations they were really painful.
As soon as i've seen the ZS7 out i just jumped on them and i still thank AK AUDIO STORE which gave me the chance to get them at a discounted price.
ZS7 are definitely an upgrade from the ZS6 (at least this is my 2$), even if the upper region is not really comparable: the ZS7 has a warmer presentation.
They are a more refined ZS6, which don't lose the "Rock'n-Roll" spirit and the fun the ZS6 had: a fun sounding IEM with a solid build, easy to drive and probably one of the best sub 50$ IEMs.
If you even get it with the discount then.. for the price it is a steal!